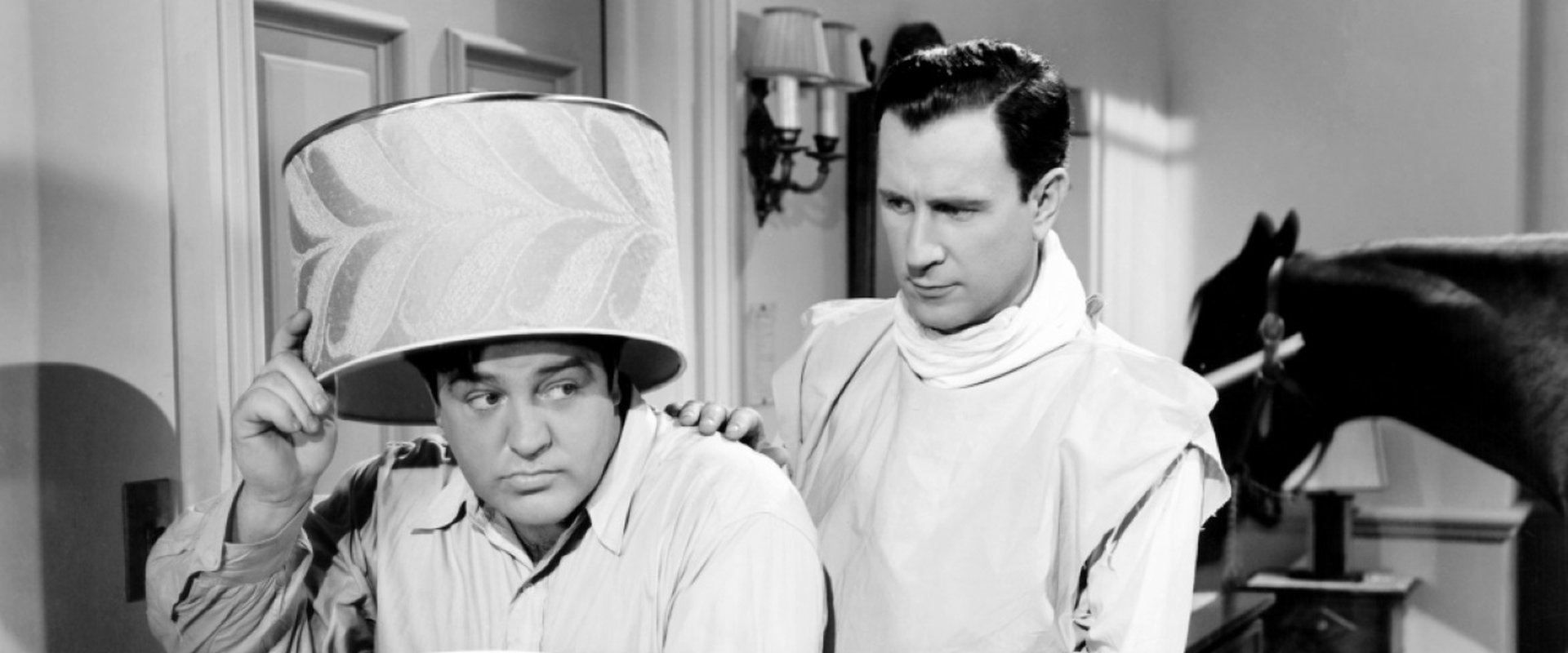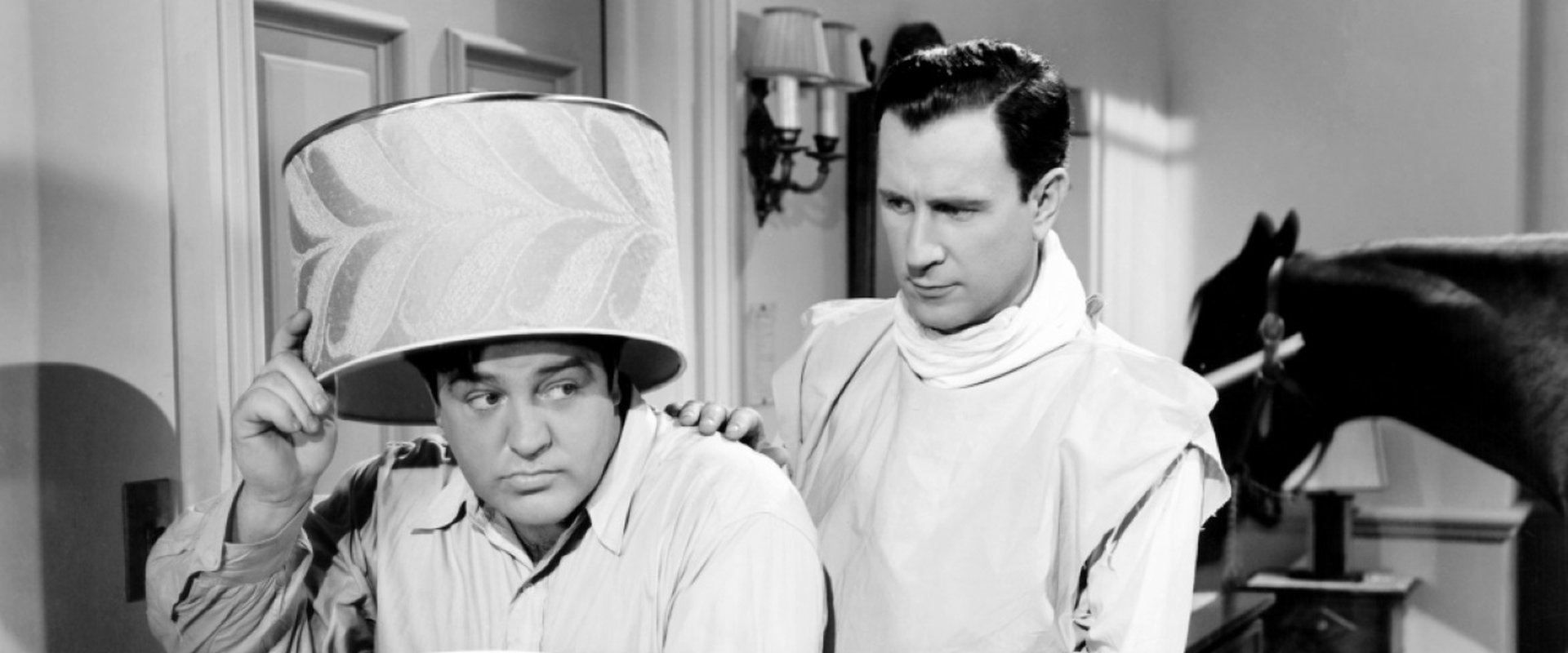 Volledige cast van It Ain't Hay
Hier vind je een overzicht van de cast van de film It Ain't Hay uit het jaar 1943, met onder andere alle acteurs, actrices en de regisseur. Wanneer je klikt op de naam van een acteur, actrice of regisseur uit de film It Ain't Hay-cast kun je meer films en/of series van hem of haar bekijken. Klik hier voor meer informatie over de film.
Wij hebben een overzicht gemaakt dat onder meer bestaat uit acteurs, regisseurs, het productie-team, het camera-team, schrijvers en overige crewleden.
Regisseurs
Erle C. Kenton
Regisseur
Schrijvers
Allen Boretz
Scenario
John Grant
Scenario
Damon Runyon
Story
Acteurs & actrices
Bud Abbott
Grover Mockridge
Lou Costello
Wilbur Hoolihan
Grace McDonald
Kitty McClain
Cecil Kellaway
King O'Hara
Eugene Pallette
Gregory Warner
Patsy O'Connor
Peggy / Princess O'Hara
Leighton Noble
Private Joe Collins
Shemp Howard
Umbrella Sam
Samuel S. Hinds
Colonel Brainard
Eddie Quillan
Harry, the Horse
Richard Lane
Slicker
David Hacker
Chauncey the Eye
Andrew Tombes
Big-Hearted Charlie
Wade Boteler
Reilly
Selmer Jackson
Grant
Charles Bennett
SPCA Driver (uncredited)
Eddie Bruce
Good Humor Man (uncredited)
George Bruggeman
Dancer (uncredited)
Alex Callam
Mug (uncredited)
James Clemens
Dancer (uncredited)
Eddie Coke
Attendant (uncredited)
Charles Coleman
Doorman (uncredited)
Fred Cordova
Attendant (uncredited)
Hal Craig
Singer (uncredited)
Harold DeGarro
Stilt-Walker (uncredited)
Walter Dennis
Boy (uncredited)
Paul Dubov
Tout (uncredited)
Dorothy Elswit
Roller Skater (uncredited)
James Flavin
Cop (uncredited)
William Forrest
Banker (uncredited)
Eddie Foster
Grafter (uncredited)
Janet Ann Gallow
Little Girl (uncredited)
Don Germano
Musician - Guitar (uncredited)
Stephen Gottlieb
Child (uncredited)
Kit Guard
Fighter (uncredited)
Tom Hanlon
Radio Announcer (uncredited)
Harry Harvey
Shorty (uncredited)
Vinton Hayworth
Golfer (uncredited)
Hans Herbert
Janitor (uncredited)
Herbert Heyes
Manager (uncredited)
Robert Homans
Policeman (uncredited)
George Humbert
Gardener (uncredited)
Kate Drain Lawson
Matron (uncredited)
Barry Macollum
Taxi Driver (uncredited)
Mike Mazurki
Bouncer (uncredited)
Ray Miller
Customer (uncredited)
Jack Norton
Drunk (uncredited)
Gene O'Donnell
Attendant (uncredited)
Spec O'Donnell
Newsboy (uncredited)
Frank Penny
Ticket Seller (uncredited)
Ralph Peters
Man at Microphone (uncredited)
Pete Peterson
Musician - Bass (uncredited)
Lorin Raker
Hicks (uncredited)
Rod Rogers
Jockey (uncredited)
Tilio Russo
Musician - Accordion (uncredited)
John Sheehan
Storekeeper (uncredited)
Charles Sherlock
Mug at Door (uncredited)
Will Stanton
Drunk (uncredited)
Sammy Stein
Bouncer (uncredited)
Harry Strang
Policeman (uncredited)
Al Torrieri
Musician - Guitar (uncredited)
Herb Vigran
Man in Microphone Room (uncredited)
Pierre Watkin
Maj. Harper (uncredited)
Bobby Watson
Clerk (uncredited)
Matt Willis
Bouncer (uncredited)
Artistieke vormgeving
John B. Goodman
Art Direction
Harold H. MacArthur
Art Direction
A.J. Gilmore
Set Decoration
Russell A. Gausman
Set Decoration
Camera
Charles Van Enger
Director of Photography
Kostuum & make-up
Vera West
Costume Design
Filmbewerking
Frank Gross
Editor
Productie
Alex Gottlieb
Producent
Geluid
Frank Skinner
Music
Charles Previn
Music
Ralph Freed
Music