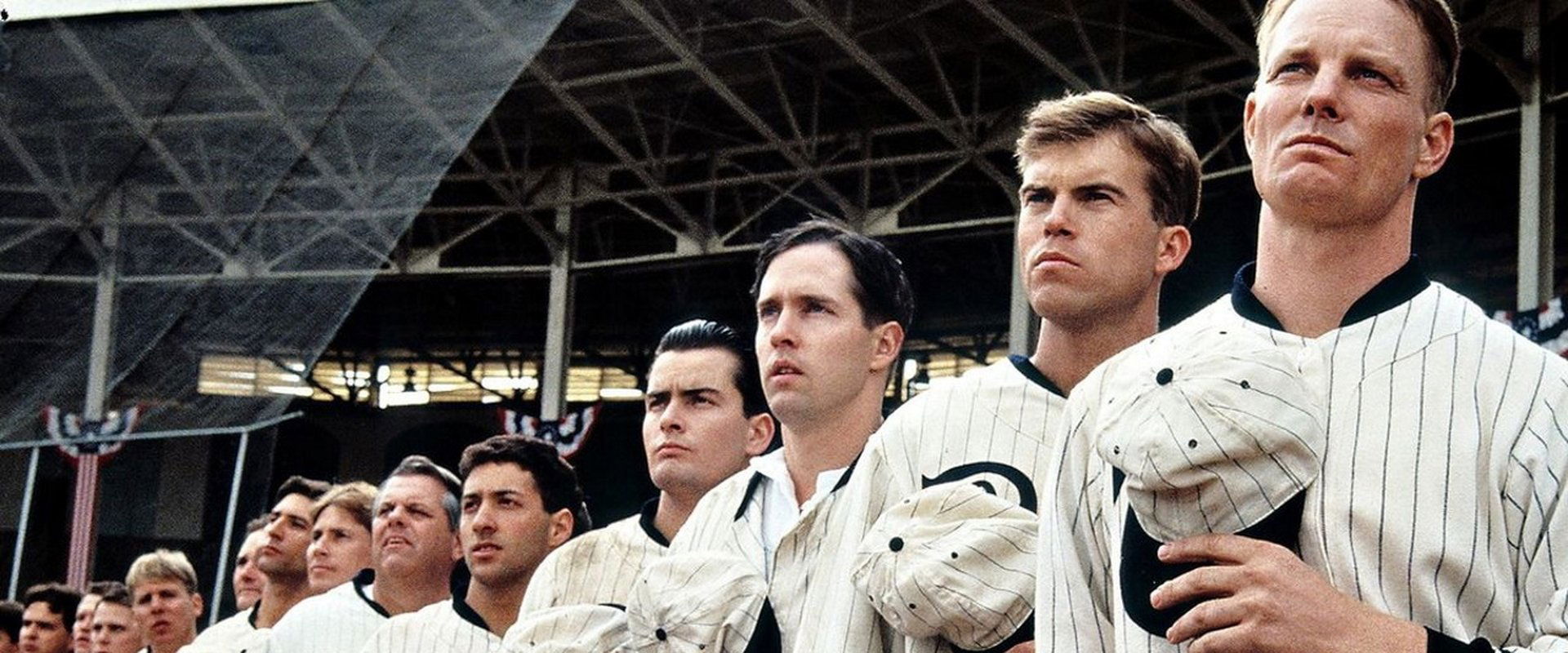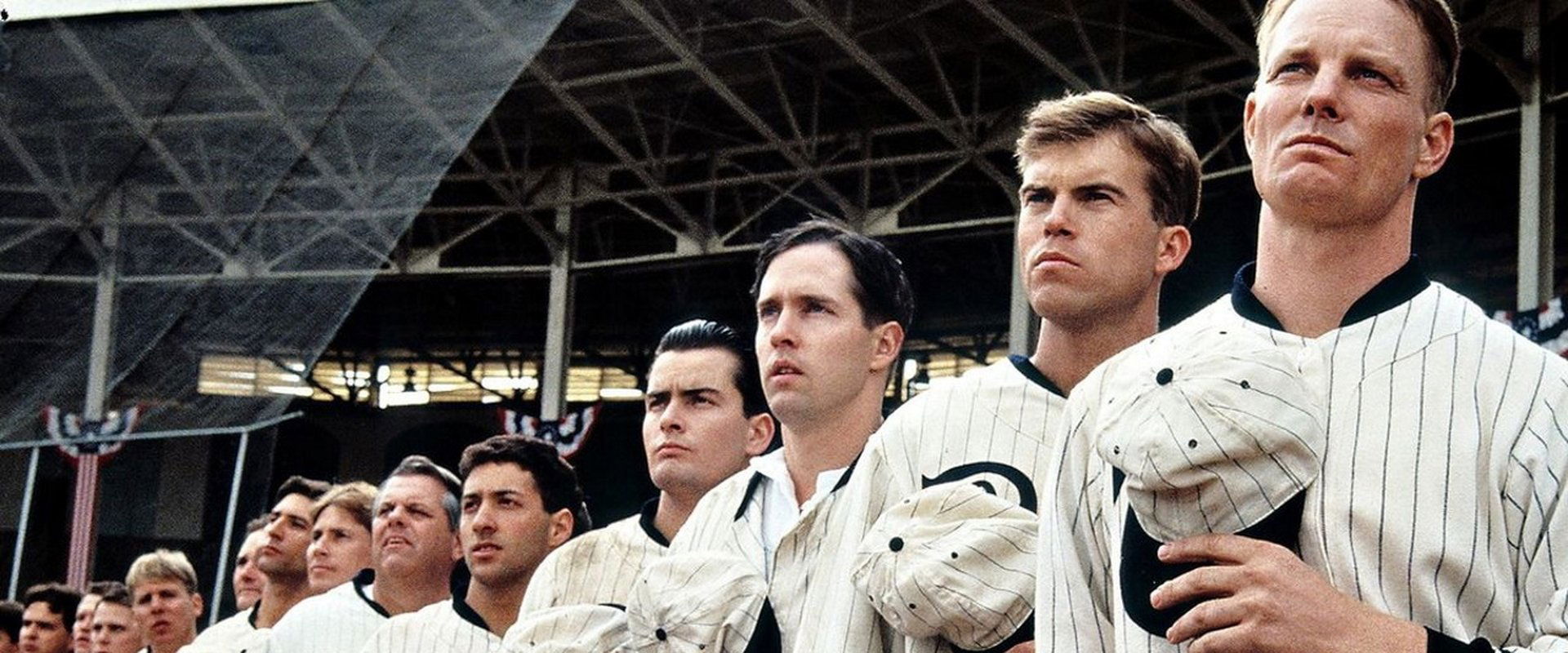 Volledige cast van Eight Men Out
Hier vind je een overzicht van de cast van de film Eight Men Out uit het jaar 1988, met onder andere alle acteurs, actrices en de regisseur. Wanneer je klikt op de naam van een acteur, actrice of regisseur uit de film Eight Men Out-cast kun je meer films en/of series van hem of haar bekijken. Klik hier voor meer informatie over de film.
Wij hebben een overzicht gemaakt dat onder meer bestaat uit acteurs, regisseurs, het productie-team, het camera-team, schrijvers en overige crewleden.
Regisseurs
John Sayles
Regisseur
Gary Marcus
First Assistant Regisseur
Gina Randazzo
Second Assistant Regisseur
Schrijvers
Eliot Asinof
Book
John Sayles
Scenario
Acteurs & actrices
John Cusack
George 'Buck' Weaver
Clifton James
Charles 'Commie' Comiskey
Michael Lerner
Arnold Rothstein
Christopher Lloyd
'Sleepy' Bill Burns
John Mahoney
William 'Kid' Gleason
Charlie Sheen
Oscar 'Hap' Felsch
David Strathairn
Eddie Cicotte
D.B. Sweeney
'Shoeless' Joe Jackson
Don Harvey
Charles 'Swede' Risberg
Michael Rooker
Arnold 'Chick' Gandil
Perry Lang
Fred McMullin
James Read
Claude 'Lefty' Williams
Jace Alexander
Dickie Kerr
Gordon Clapp
Ray Schalk
Richard Edson
Billy Maharg
Bill Irwin
Eddie Collins
Michael Mantell
Abe Attell
Kevin Tighe
Joseph 'Sport' Sullivan
Studs Terkel
Hugh Fullerton
John Anderson
Judge Kenesaw Mountain Landis
John Sayles
Ring Lardner
Clyde Bassett
Ban Johnson
Barbara Garrick
Helen Weaver
Wendy Makkena
Kate Jackson
Maggie Renzi
Rose Cicotte
Nancy Travis
Lyra Williams
Bill Raymond
Ben Short
Stephen Mendillo
Monk
James Desmond
Smitty (as Jim Desmond)
Eliot Asinof
John Heydler
John D. Craig
Rothstein's lawyer
Michael Laskin
Alfred Austrian
Randle Mell
Michael Ahearn
Robert Motz
District Attorney
Tay Strathairn
Bucky
Jesse Vincent
Scooter
Jack George
Fan
Tom Surber
Fan
Tom Ledcke
Fan
David Carpenter
Fan
Bert Hatch
Fan
Jerry Brent
Writer
Bruce Schumacher
Writer
Robert Walsh
Writer
Matthew Harrington
Writer
Richard Lynch
Writer
Gary Williams
Writer
Michael L. Harris
Writer (as Michael Harris)
Ken Berry
Heckler
David Rice
Enemy fan
Tom Marshall
Browns umpire
Jack Merrill
Grabiner (as Merrill Holtzman)
Josh Thompson
Winslow
Julie Whitney
Woman in Bar
Dana Roi
Woman in Bar
Philip Murphy
Jimmy
J. Dennis Newman
Reds Player
Charles Siebert
Ivey Wingo (as Charles Siebert II)
Jim Martindale
Cincinnati Umpire
Bill Jennings
Chicago Umpire
David Hinman
Announcer
Danton Stone
Hired Killer
Patrick Grant
Irish Tenor
Tim Laughter
Betting Man
Brad Armacost
Attendant
Jim Stark
Reporter
Brad Griffith
Reporter
Steve Salge
Reporter
Dick Cusack
Judge Friend
Eaton Randles
Clerk
Max Chiddester
Tom Nash
Rich Komenich
Jury Foreman
Patrick Brown
New Jersey Fan
John Griesemer
New Jersey Fan
Charles Yankoglu
New Jersey Fan
Michael B. Preston
Ellix (as Michael Preston)
Artistieke vormgeving
Dan Bishop
Art Direction
Nora Chavooshian
Production Design
Lynn Wolverton-Parker
Set Decoration
Camera
Robert Richardson
Director of Photography
Kostuum & make-up
Cynthia Flynt
Costume Design
Filmbewerking
John Tintori
Editor
Verlichtingstechnieken
Ray Peschke
Gaffer
Productie
Peggy Rajski
Co-Producent
Barbara Boyle
Executive Producer
Jerry Offsay
Executive Producer
Sarah Pillsbury
Producent
Midge Sanford
Producent
Geluid
Mason Daring
Original Music Composer
David Brownlow
Sound Mixer